Il CPQ, ovvero l'acronimo di "configure, price and quote", è un tool per l'area vendite, in grado di generare in modo rapido ed accurato delle quotazioni.
Le offerte realizzate con il CPQ sono automatizzate e realizzate attraverso una serie di regole programmate in precedenza, garantendo un output con prezzi privi di errori, che tengano conto di quantità, sconti, caratteristiche di prodotti, incompatibilità eventuali e personalizzazioni.
Il Salesforce State of Sales, afferma che i sales team dedicano solo il 34% del tempo nelle attività di vendita, ed il resto del tempo viene utilizzato per preparare proposte e preventivi.
Ma quali sono i segni per cui dovresti optare per un CPQ?
Ecco qui sotto un'infografica che li rappresenta: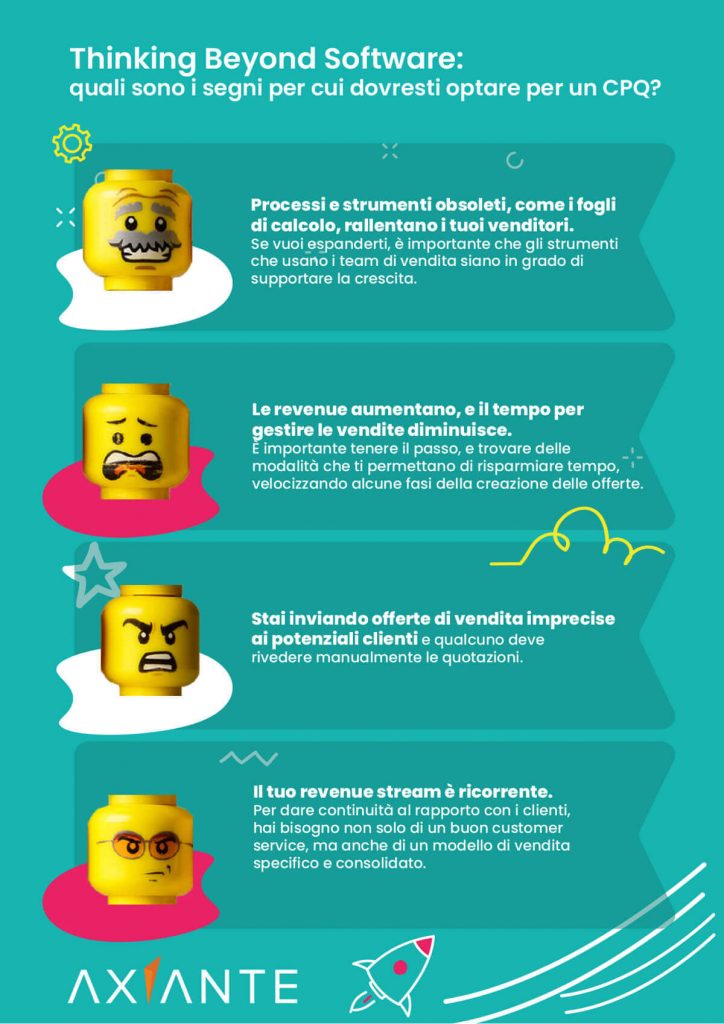 E quali sono invece i vantaggi ed il ROI che ottiene chi l'adotta?
Per scoprirlo compila il modulo qui sotto ed ottieni l'infografica.
Se vuoi saperne di più sulla nostra esperienza, leggi i nostri case study oppure resta sintonizzato sulla nostra pagina Linkedin.